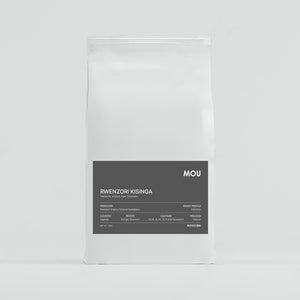 Dense and lush, characterized by juicy fruit notes, a dark chocolate structure, and sweetness like hard candy. Enjoyable on its own and certain to inspire numerous iterations of signature drinks with its character.
Roasted medium to give a chocolatey cup, a smooth silky body and a long finish with gentle acidity. Makes plush espresso and mixes well in milk drinks.
Producer: Rwenzori Arabica Scheme Kyagalanyi

Varietal
: SL28, SL34, SL14 and Nyasaland
Altitude: 1,700-2,200 masl
Process: Natural

Country: Uganda
Region: Rwenzori
Tasting Notes
:
Nectarine, Almond, Dark Chocolate
Best Used:
 7
-15 days post roast
Yield: 37g (double shot)
Extraction Time:
24-26secs
Farm Information
The Rwenzoris are a mountain range famously known as the 'Mountains of the Moon.' They stretch for 120 kilometers along the Western Uganda border with the Democratic Republic of Congo. The snow-capped peaks reach over 5,000 meters above sea level and support glaciers that are the start of many rivers flowing down the slopes (including one source of the Nile). The slopes of this range are where the government of Uganda is promoting coffee production as a key driver for rural development.

The area is also home to the Bakonzo tribe, a people who have farmed the foothills of the Rwenzori for many generations. The high altitude, fertile soils and plentiful rainfall provide perfect growing conditions for Arabica coffee. 
Bukonzo county is divided into many sub-counties including Kisinga, Kyondo, Kyarumba, Munkunyu, Mahango, Nyakatonzi and Isango. The area has many small towns situated on the lowlands, which are joined by good road networks. These towns provide ideal locations for coffee processing and are home to many farmer groups, primary processors and it is in one of these towns, Kisinga, where Kyagalanyi has located its first Coffee Station. At this station, Kyagalanyi is focusing on high-quality specialty natural Arabica.