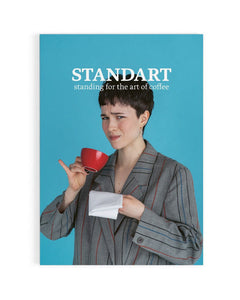 The idea of critique, in its many forms, guides Standart Issue 18. From pieces that explore the role criticism plays in our everyday lives and how we can turn it into constructive fuel for improvement, to a critical exploration of how we define 'premium' in paying farmers a decent price for their work, to how Modernist writers Virginia Woolf and T. S. Eliot used coffee as a literary device to explore the fabric of consciousness.
In Standart Issue 18, we ask coffee creative and activist Umeko Motoyoshi what's pissing her off and task a coffee lover with visiting New York cafés and providing critical reviews of their bathrooms.⠀
⠀
We debunk coffee myths with World Barista Champion Gwilym Davies, explore Mexico as a country of origin, discover experimental coffee varieties with Daterra Coffee, and talk to coffee pros like Michelle Johnson, Scott Rao or James Hoffmann in this issue's long-form treatment on the subject of critique in specialty coffee by Noa Berger. ⠀
Ready to take a critical look at coffee? How about criticism itself? Get your copy of Standart issue 18 now.