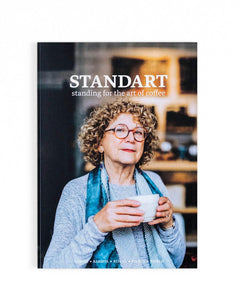 Coffee
In the coffee chapter, we explore some lesser-known elements of supply chain economics, the scientific research that could lead to disease resistant coffee, take a trip to the the home of Geisha—Panama, and delve into the artistic side of coffee and film. 
Barista
For baristas just starting out, or practiced steamers, our training manual on milk is sure to contain some valuable pointers and reminders. We trace the daily lives of baristas in Costa Rica and Tokyo before showing you home best to go about setting yourself up to make espresso at home. Finally, Michael Phillips joins us to speak on cross- cultural coffee, training and education, and what automation means for the industry.
Ritual
We explore the ritual of avocado on toast in this chapter, and once we're done with breakfast, get ready to explore your spirituality as we serve up your coffee horoscopes. Once you've come down from that transcendent moment, read and in-depth profile on our sponsor and one of the most exciting equipment brands in coffee,Alpha Dominche.To top it off, we have illustrated some of the most famous coffee-related quotes in Classic Literature. 
People
The more we indulge in the specialty coffee industry, the more we discover that it's all about the people. We speak coffee and academia with anthropologist Merry White, the practices and philosophy behind one of Australia's most successful coffee shops, and drown ourselves in the booze of the underground with a piece on speakeasy bars. 
World
Standart is currently available in 54 countries (and counting). 'The language of coffee is universal' says Michael Phillips in his interview with us, and that's what this chapter is all about. We move from a history of the coffee house in 20th century Baghdad, to rollicking third wave coffee scene in the English city of Oxford, all the way to the farthest expanses of Europe for a look at how coffee is developing in provincial Russia, before reading about the most captivating global competition in coffee.