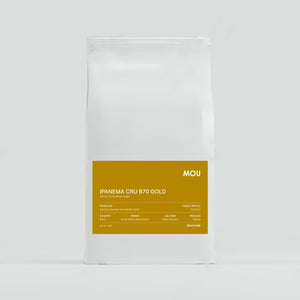 One of the most interesting developments in coffee is the increasing number of farms who are producing micro-lots that particularly target specialty coffee drinkers. Fazenda Rio Verde has been producing coffee since the 1880s but did not develop their Premier Cru range until 2018.
These coffees are a selection of very small, hand-crafted lots from the highest altitudes of the farm. This particular lot is Ipanema Premier Cru Aura Magna B70 Apricot Gold which has floral tones in the cup with flavors of Apricot. 
Producer
:
Ipanema Agricola
Varietal
: Yellow Bourbon
Altitude: 1,092 - 1,152 masl
Process: Natural and dried via patio

Country: Brazil
Region: Sul de Minas, Minas Gerais
Tasting Notes
:
Apricot, Floral, Brown Sugar
Awards: #15 Cup of Excellence 2018
Best Used: 10-21 days post roast
Dose: 18g
Yield: 36g (double shot)
Extraction Time: 26-28secs
Brew Temperature: 93°C
Milk Weight: 135-140g 
Farm Information
Rio Verde is a large farm of 1,566 hectares. Much of the farm lies between 700 and 1,000 meters above sea level. However, just over 260 hectares of the farm rise above 1,000 meters. This part of the farm, which rides several peaks, is separated into 32 'glebes' (plots), all of which have different altitudes and sun faces, soil composition and a single varietal each (A=Acacia; B=Yellow Bourbon; C=Yellow Catuai). It is from these 'glebes' (ranging from .65 to 20.13 hectares in size) that the Premier Cru range is carefully harvested.
The Premier Cru Selection project began development in 2014, with 2018 marking the first harvest marketed under the Premier Cru name. Every year a new collection will be released with a unique 'brand' name. This year the brand name or 'vintage' is Aura Magna.

Every micro lot is categorized into one of the three edition groups, revealing the complexity of the taste and its rarity. Ipanema's coffee specialist team scores the lots into Black, Gold and Blue Edition grades. The coffee's final name reflects the year's 'brand', the 'glebe' from which it was harvested, and the dominant cupping note identified by the quality control team.
All of these special coffees are selectively hand-harvested and processed using one of five processing methods, selected on a lot-by-lot basis, and based on a variety of factors and designed to highlight the maximum quality of the cherries. 

This 100% Yellow Bourbon lot was harvested from Glebe B70. The coffee was selectively hand-harvested and then processed using the Natural method. After harvest, the cherries were dried on conventional patios for 15 hours and in vertical dryers for an additional 118 hours.