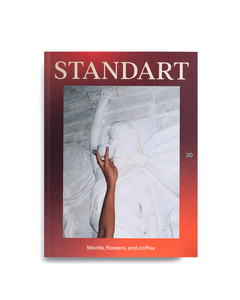 In Standart issue 20, join us as we dive into a veritable banquet of engrossing stories from across the coffee world. Read about the nascent rise of Indian specialty coffee from the source; interrogate the light-roast/dark-roast debate with one of the UK's leading roasters; follow along as a researcher looks at the latest developments in agroforestry in Brazil; and read how an artist and florist who builds arrangements for global brands and the celebrity elite has to fight tooth-and-nail to make his café/florist business sustainable.

In our long-form article, neuroscientist Fabiana Carvalho takes us through the very latest research on how colour literally changes the flavour of coffee, as we ask the question, is the specialty coffee industry doing all it can to exploit the power of the mind?

The inimitable Ashley Rodriguez turns her attention to the concept of the of relationships in coffee—how those between roaster and farmer compare to real-life, and what happens when power comes into play. Poignant questions arise, as she navigates what it really means to build a relationship in the coffee world.
 
Talor Browne of Talormade has made it through a tumultuous period in her professional life, but has come out of the experience with an awesome new business into which she has instilled a culture of empathy. This is a great read for anyone looking to start a successful coffee business, and anyone who runs one at present.
 
This is just a taste of a smidgen of the beginning of what we've got in store for you in issue 20. We can't wait to see what you think!