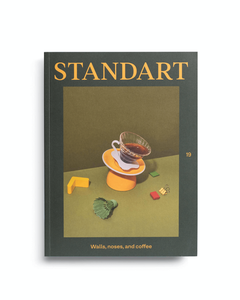 Welcome to the new era of
Standart
.
Brand new and with a completely overhauled design,
Standart
19 is louder, bolder, unafraid to confront the issues facing our industry, and unrelenting in our celebration of what makes coffee great.
As ever and thanks to our amazing writers and artists, we've got a litany of incredible articles on a range of subjects:
A report of the hard-hitting realities producers face on the ground in Peru; more myth-busting madness from former World Barista Champion Gwilym Davies; a behind-the-scenes look at a brand new 'metric' cupping protocol developed by the folks at Barista Hustle; a veritable love story between one coffee supergeek and a rare Colombian varietal; and our long-form article this issue is a heavily researched and passionately wrought exploration of how neurodivergent conditions affect people in the coffee industry.
Standart
19 beckons in a new era for our magazine. With harder-hitting articles, adventurous and experimental artists and photographers, and a new approach to design, we're ready to take coffee journalism to new heights. Well, go on. Join the fun!